Well worth the wait: Oculus' Touch controllers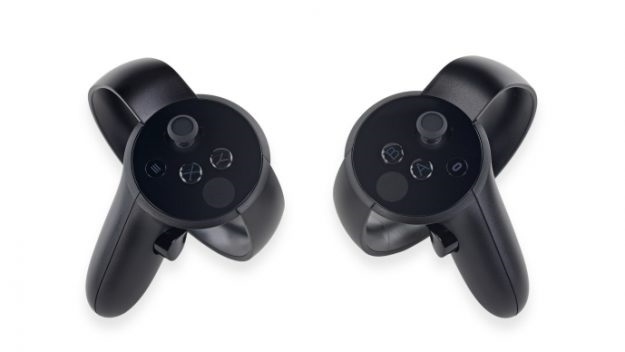 The Oculus Rift proves high-end VR has a place in the home, but it lacks one major feature: motion controls. Both the HTC Vive and Sony PlayStation VR offered this from the get go, and it helps them deliver more immersive VR experiences. Rift users can finally join in on the fun with the anticipated $199 Touch Controllers. Sure it took Oculus nine months to provide motion controls, but it's clear they haven't been sitting around idle – this is one of the most refined controllers we've held.
Summary
Rift owners finally have solid motion controls in the Oculus Touch controllers. Surprisingly, they're great gamepads in their own right. An essential item for your Rift VR headset.
Hardware
Even diehard gamers won't have seen anything like the Touch controllers. Beautiful, but unwieldy at first glance, they're like a gaming-input device imagined in a sci-fi film. Made from smooth black plastic (looking a lot like the Xbox One controller), they feel quite sturdy. Oculus' inexperience with controllers isn't obvious at all.
Moving past the unique design, once you put them on, you'll notice they're actually incredibly intuitive. As they're contoured for your left & right hands, once you grab their handles, your fingers fall into place naturally. Both feature analog sticks, triggers (which your index fingers rest on), two face buttons, and grip buttons under your middle fingers. The left controller has a menu button beneath the analog stick, and the Oculus home button is on the right controller. The prominent circular rings help with motion tracking, but you'll never need to grip them.
You'll also get an Oculus sensor in the controller's box, allowing the Rift to handle some VR requiring standing & moving around. Don't expect room-scale VR like the HTC Vive, as you'll need a third sensor for $79 to make that happen (even a 4th if a large space).
The Touch controllers feel better suited to extended sessions, as they're smaller & lighter than both the Vive & PS VR gamepads. Admittedly, weight & size isn't an issue with competitors either, but the Touch feels significantly more comfortable, possibly due to better ergonomics. Vive's controllers fit comfortably, but are quite large, and the PS motion controller wasn't built with VR in mind.
A single AA battery powers each Touch controller, fitting in the base via magnetic latch. Removable, rechargeable batteries would have been my preferred option (perhaps with micro-USB support too). It would be nice to be able to charge these controllers as with all of our other gadgets. Oculus engineers state 30 hours on a single battery, or 20h if haptic feedback is on.
In Use
Setup was quite simple: plug in the additional sensor into a USB 3.0 port, and follow the instructions on the Oculus app. Surprisngly, both sensors need to face straight forward to work with Touch, unlike the sensor I was used to pointing at me from my desk corner. You'll need to trace out your boundary of playable free space, like the Vive setup. This is used for the Oculus Guardian feature, keeping you from bumping into obstacles.
After configuration, you'll be walked through the Touch's capabilities in the "First Contact" VR experience. This'll teach you the buttons, how to grab and make gestures, all while playing with fireworks.
As for motion tracking, the Touch controllers keep up with hectic situations (shooting several enemies) and precise movements (setting down items gently). My desktop, powered by an Intel Core i7 4790K at 4GHz, 15GB 2400MHz DDR3 RAM, and a GTX 1080 GPU, didn't experience any spotty motion tracking, even when aiming behind myself. It felt more stable than the PSVR motion tracking which uses depth-sensing & weaker hardware.
The big surprise was that the Touch controllers were also very good game controllers.The analog sticks rotate smoothly, and are anti-slip in design. The triggers & face buttons have solid feedback reminding me of Xbox One's gamepad.
These are just my thoughts after a few weeks – the real test is how a controller fairs after months of play. I've only worn the battery down to 20% so far.
Each button is also capacitive, so it can detect your finger even when not actively pressing down, and can detect when they're lifted – useful for gestures such as pointing. This refined finger detection is great for keeping you immersed in your VR experience. I expect to see this in future gamepads too.
I've had game controllers in hand since the NES at age 5, but the Oculus Touch controllers almost feel like extensions of my body.
The Games
Right now we've well into the 2nd wave of VR releases (First with the Rift & Vive launch, second with the PSVR). Oculus say 53 titles will offer Touch support at launch, including existing games Job Simulator and The Climb. Next year, you can look forward to Giant Cop: Justive Above and Arkitka.1 Many Vive Steam VR titles will also work with the Toch, even if not available in the Oculus store.