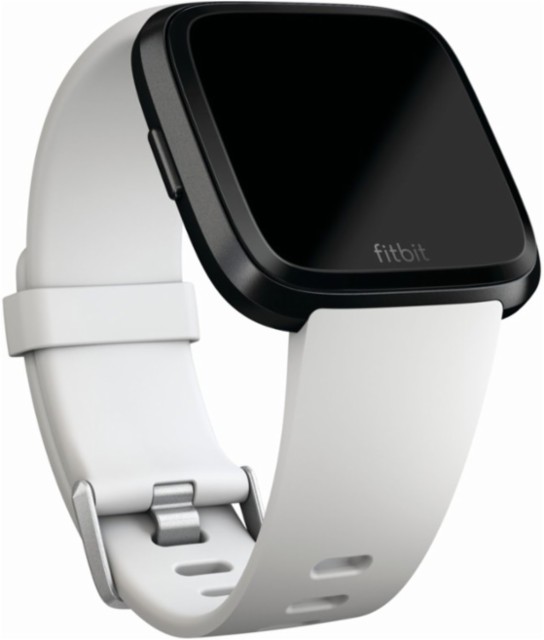 Valuable lessons were learned from the King of Fitness' first smartwatch.
Launching its first smartwatch last year, Fitbit has something to prove. Having just bought beloved smartwatch pioneer Pebble, the company had previously struggled to produce a wearable with a proper operating system. It came as no surprise to see the Ionic stuffed full of features. Aside from a comprehensive range of fitness metrics, it provides onscreen workout tutorials, stores music, streams to Bluetooth headphones, runs 3rd-party apps, and makes contactless payments. It also has a blood-oxygen sensor awaiting the company's approval (but is useless right now).
It's no surprise Ionic wasn't cheap. Compared to the Apple Watch or Samsung's Gear Sport, $300 is cheap, however it may put off novices looking for a simpler device. The hexagonal design screams "Fitbit," and not regular watch.
All of this is addressed in the second smartwatch, Versa. It will cost just $200, has a simplified OS, and is the best looking Fitbit yet.
Summary
The Versa is a cheap, prettier version of Fitbit's first true smartwatch the Ionic. For $100 less, you'll miss out on built-in GPS & NFC payments. It still boasts 4-day battery life, and many health-tracking features, making it fantastically fitness-centric.
Hardware
Although it looks like a slightly wider Apple Watch, the Versa blends in nicely compared to the Fitbits of the past. The familiarity of the Apple Watch makes the Versa's resemblance an asset. With the right combination or band and case, you may even find the Fitbit prettier than the Apple Watch.
Looks aside, the hardware is similar to the Ionic's. Versa has a 1:1 screen aspect, but both displays are bright and crisp. Images are clear & vibrant on the 1.34 inch face. The new dimensions mean Ionic's apps need to be tweaked to fit, but more on that later.
The same heart-rate sensor & water resistance (up to 50m) make the Versa great for tracking swims. The same oxygen sensor is onboard, but is waiting for Fitbit to actually utilize it.
Here are some key differences. No built-in GPS – your phone will have to track your route. The basic version in the US also lacks NFC for Fitbit Pay, a feature present on the special addition (for an extra $30). These are the tradeoffs for the $100 price reduction. If you enjoy runs sans phone, opt for the Ionic.
Usage
To the Versa's performance – no real surprises here. The watch is good at noticing me starting an activity, as long as I've been at it for roughly 10 minutes. When worn to a boxing class, it accurately recognized (due to elevated heart rate) that I had exercised for 45 minutes. You can also launch Workout mode from the phone's Exercise app to capture information such as cardio performance or calories burned. If not, those 45 minutes are simply logged as "active time."
When going for a run, Versa took 10 seconds to connect to my phone's GPS. The Ionic allows quick starts, but also takes its own time to find your location.
A main difference between the Versa & Ionic comes in the updated operating system. The Versa ships with Fitbit OS 2.0, while Ionic will update later this year. The new OS places a dashboard under the Home screen, allowing you to see the day's stats by simply swiping. This process was far longer on the Ionic. This simplifying actually led me to check progress often, and motivated me to stay on target.
Also overhauled were the notifications. Pressing the top right physical button, or swiping down from Home, will both pull down a list of notifications. Alerts peek down from the top, and can be flicked away. When paired with an Android, you can send reply messages through the watch & its five customizable templates. Quick replies aren't live, and won't be until May.
"Female health tracking" also comes in May – for the confused, that means menstrual cycle tracking. Although phone apps can already do this, it's nice to see this on your wrist, and integrated with Fitbit's other information.
The Versa can be made more powerful with additional third-party apps. The Fitbit app store has grown since Ionic launched, although we're not sure how many apps have been tweaked for Versa's changed dimensions. Nifty options include Nest, Yelp, The New York Times – even 2048 was fun on the teeny screen.
The Versa promises "four-plus" days, and after tracking at least two workouts and four nights of sleep, the watch conked out after close to five days of use. The Ionic lasts a little longer, but not enough to be of importance.
Wrapping Up
The first standout of the Versa is the sub $200 price tag, then comes the attractive design – more smartwatch than fitness tracker. The lack of GPS & NFC is disappointing, but this may aid Fitbit reaching a larger audience.